Horizon IV pergola with retractable accordion slats

Totally protect yourself from the sun or treat yourself to an open-air terrace?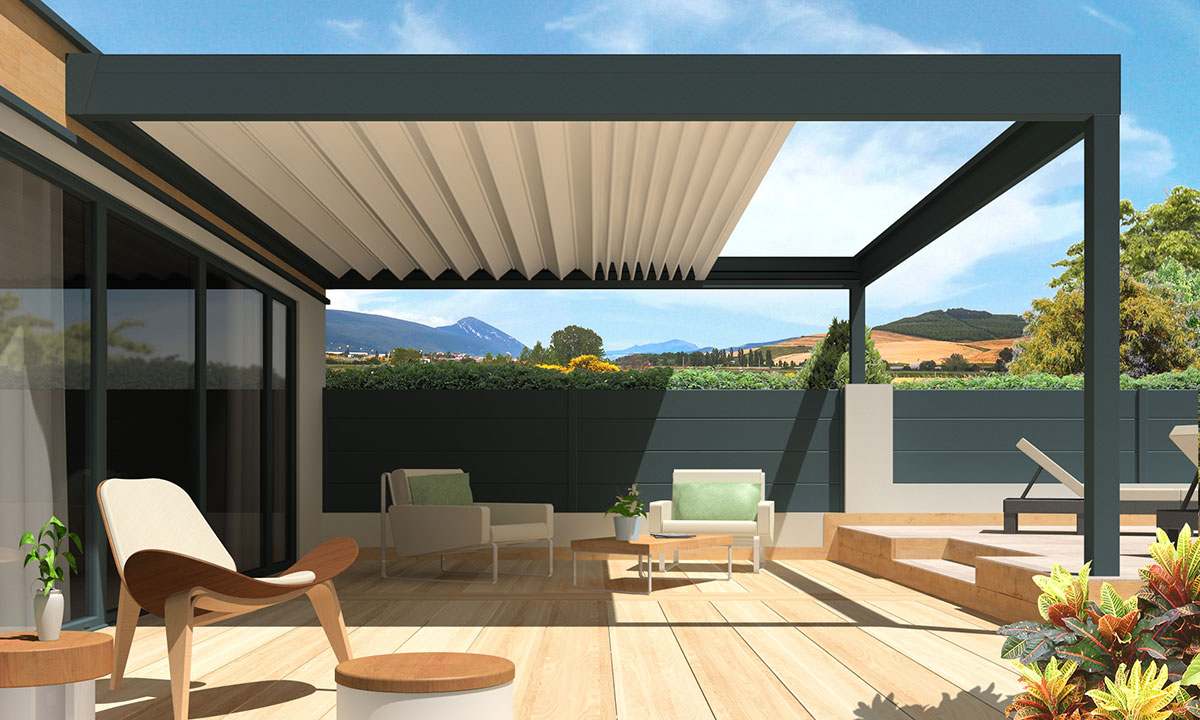 The aluminum slats of the Horizon 4 pergola can be retracted to take full advantage of the sun on your patio. Its design thus offers an advantage over non-retractable systems by allowing the terrace to be uncovered when necessary. A real retractable pergola with accordion slats to enjoy total sun protection and continue to enjoy your terrace during bad weather.
An open-air terrace?
This is what the Horizon 4 pergola offers. Up to 80% opening to the sky when the slats are retracted. You can then enjoy the starry sky and the sun. The opening of the slats preserves the light in autumn or winter when the sun's rays are beneficial.
Large width and protection
The extruded aluminum structure is durable against bad weather and UV rays and offers a very large protected space. Ideal for increasing the area of your restaurant or covering your XXL terrace. Sun or rain, regardless of the weather conditions, your terrace remains comfortable.
Accessorize your pergola!
Based on a horizontal aluminum structure, like all our Horizon adjustable louvers pergolas, it is possible to add accessories and options. Add the 115 box awnings on the side for privacy or protection from a light breeze (see all trim options). In the evening, remotely control the light under the pergola thanks to an LED strip deployed on three sides.
See a video
Dimensions of retracted slats, 90 cm.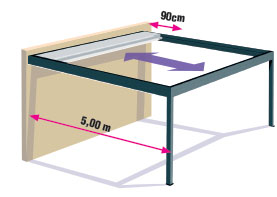 Maximum dimensions, 5 meters wide and 5.21 of projection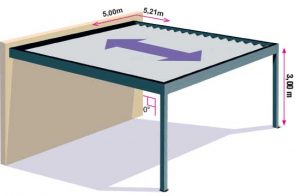 Two modules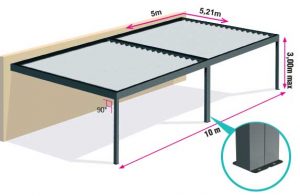 Standard Ral
RAL 7016 ANTHRACITE Teflon coated or RAL 9010 Glossy lacquer
Height of posts
2.50m as standard (3m max)
Materials
Aluminum and stainless steel A2 screws
Evacuation
Openings made on each post
LED option
On front cassette or three sides
Maximum projection
5.21 meters
Dimension of closed slats
20% of the projection
Horizon 4 in brief!
Folding roof (retractable)
Optimal roof opening
Simplified assembly
Tubular motor operation with toothed drive belts
Download the brochure
"All our tables are protected from the sun but also from the rain when necessary.

Joël B.
Discover some beautiful projects of pergolas Horizon 4 made by our customers
This Horizon 4 pergola goes perfectly with the trellises on the facade of the modern building. The screen fabric has been chosen in the same shade as the latter for a perfect integration.
There is no doubt that the slats retracted or deployed during bad weather, residents will be able to make the most of their terrace!
Realization Toldos Laiz (Santander – Espagne )
Two Horizon 4 pergola modules to cover this large terrace. Once the slats are retracted, the light penetrates widely into the apartment. Deployed this retractable roof also allows occupants and their guests to benefit from more privacy.
Ideal for protecting against bad weather and enjoying the wooden terrace all year round. In addition to the owners' sun protection, the wooden terrace will be protected from UV rays and rain. It will keep its "new" appearance for many years.
Realization Toldos Bioclima (Page Facebook Toldos Bioclima )
Looking for other solutions to embellish your pergola? This may interest you …
There are other solutions besides ZIP screen blinds. You can opt for a zipped crystal fabric, sliding glass or the Claustra.
Our solutions adapt to our pergolas with a horizontal structure.
This post is also available in: Français (French) Español (Spanish) Italiano (Italian)