The exhibition of renewable energies was held in Montpellier France on December 11 and 12, 2018. Mitjavila held a booth as a manufacturer of photovoltaic solutions.
Among the products offered by Mitjavila there is the solar pergola for example.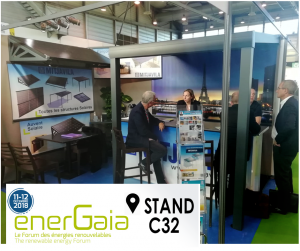 The group also offers solar shelters to produce your own electricity, connected to the electrical network of a house they allow a considerable contribution in electricity.
A good way to lower your consumption. Mitjavila offers to a lesser extent also autonomous box awnings and pergolas. With photovoltaic panels there is no more need to connect to the power grid to power your awnings and pergolas.
And remember that in 2013, MITJAVILA Carport, a carport focused on self-consumption and electric mobility, won an Innovation Award at Energaia!
Mitjavila offers quality solar products with reliable structures and designed for easy and long-lasting sustainability.
This post is also available in: Français (French) Español (Spanish)