Bioclimatic pergola with adjustable slats H3

Relax under a bioclimatic pergola with adjustable louvers!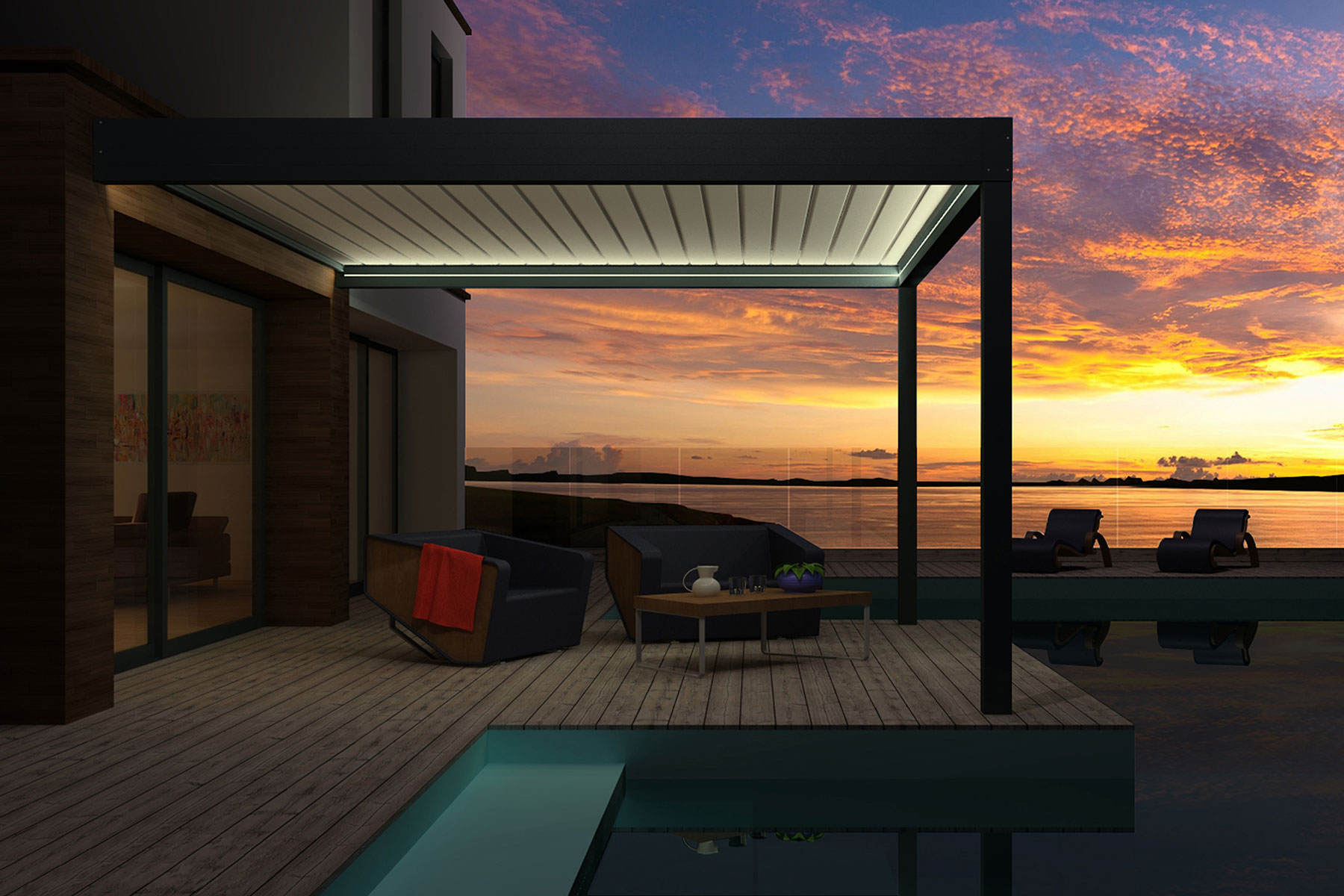 Protection, elegance and robustness define the Horizon III pergola. But it offers you so much more. The robust aluminum profiles and the design of the Horizon III bioclimatic pergola allow you to consider XXL dimensions … Your exterior as you wish. Made-to-measure and modular, it can be chosen with slats perpendicular or parallel to the facade. The added bonus? Its double piston for a smooth opening. Don't you need a large pergola? Then consult our other models of bioclimatic pergolas (Horizon 2, Lucia…) which will be more suitable.
Adapt to changing weather conditions!
Thanks to its robustness and its technology, you are in control of the sunshine and temperature under the bioclimatic pergola. Even in inclement weather, it protects you. The orientable louvers of the Horizon 3 pergola allow air circulation while managing the light. Opening of the louver at 115 ° for a guaranteed bioclimatic effect. The total closure of the slats and the drainage of rainwater are designed to protect your garden furniture. However, opening the slats is recommended in the event of snowfall so as not to damage the structure.
Add-ons for more comfort
The horizontal structure of the Horizon 3 bioclimatic pergola allows installation on three sides of cladding options according to the desired degree of protection. Sliding glass, vertical blinds, mosquito netting, there are many possibilities available to you. Prying eyes, the presence of unwanted mosquitoes or for more comfort in the low season our screens, blinds and glass walls are little extras that make the difference. It is important to measure the desired coverings once the pergola is in place.
Adapted options
Extend your evenings with LED lighting or enjoy your bioclimatic pergola even in winter thanks to heating. Thanks to the rain sensor, the slats close automatically in the event of unexpected rain. The rain sensor also offers you peace of mind when you are away. With the music option of the infrared heating, offer soft music or salsa for relaxation or an evening of dancing on the terrace.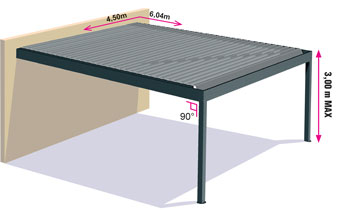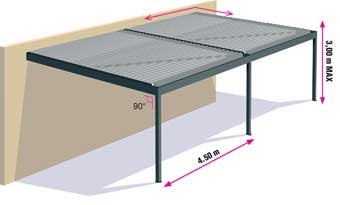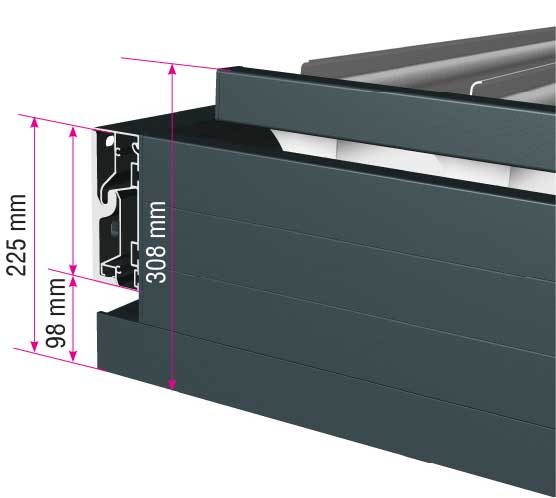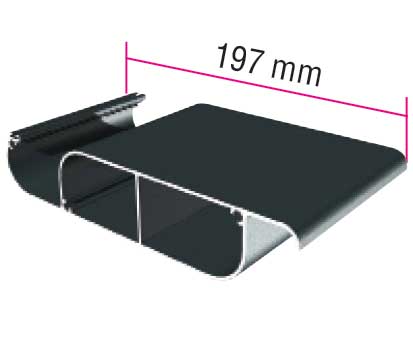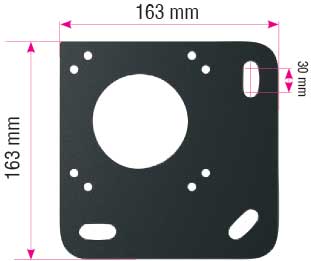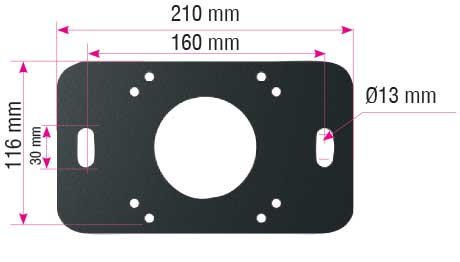 Ral standard
RAL 7016 ANTHRACITE Textured finish ou RAL 9010 Glossy finish
Projection max
6m max (4.50m perpendicular louvers)
Maximum width (per module)
4.5m per module (6m perpendicular slats)
Complete LED lighting kit
optional (1 or 3 sides)
Resistance test
CSTB Wind up to 200km / h (blades open) and rain 220mm / m² equivalent to tropical monsoon (blades closed)
Horizon 3 in brief!
Two pistons up to 27m2
115mm adaptable foot
Smooth opening
Adjustable blades up to 115 °
Max foot offset 1/3 of the projection
Download the brochure
"I can finally enjoy my terrace even when the weather is stormy!

Pascal D.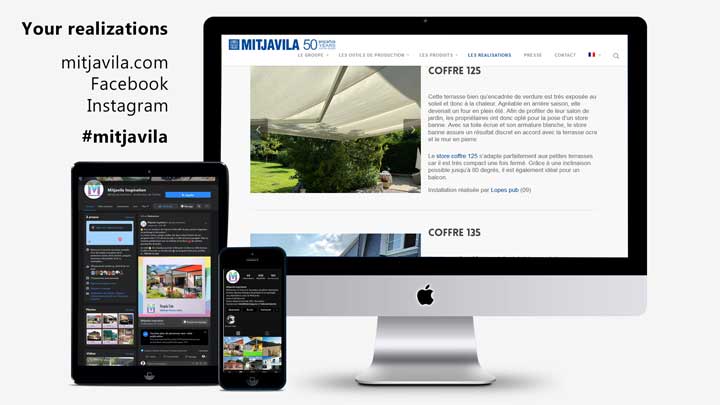 Discover in photos some Horizon 3 pergolas installed by our clients
Looking for solutions to embellish your pergola or other king of pergola? This may interest you …
Our solutions adapt to our pergolas with a horizontal structure. You can opt for a zipped crystal fabric, sliding glass or a pergola Top Lucia with sandwich panels.
This post is also available in: Français (French) Español (Spanish) Italiano (Italian)