Embellishing your home also means embellishing it via an aluminum fence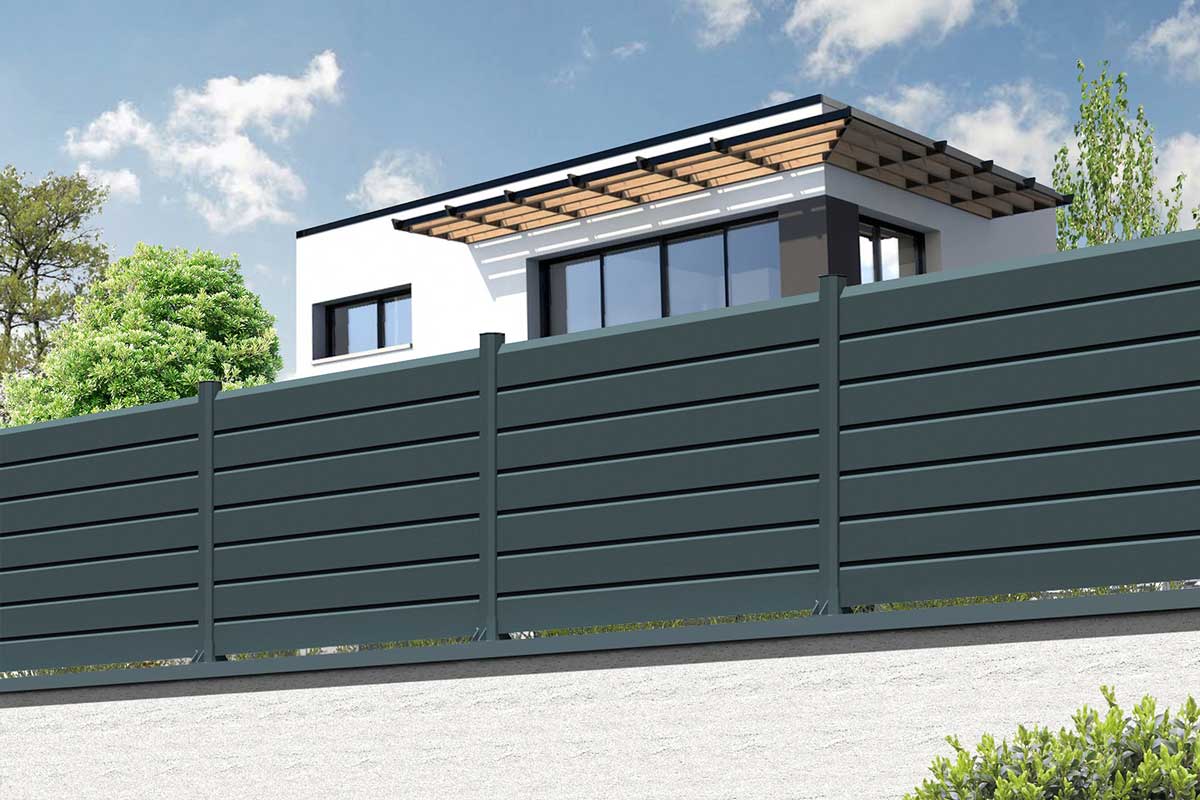 The aluminum breeze view fence that we offer – we are an aluminum system manufacturer – is designed to facilitate installation and to last over time without maintenance. This privacy fence allows different arrangements on the same system of aluminum posts. The privacy louvers fitted to the system provide blackout from the outside (you cannot be seen in your garden or on your terrace). However, you can have a bird's eye view of the outside. In addition, the breeze-view aluminum fence lets the wind pass, which is essential in certain windy regions to prevent damage.
Find peace in your garden thanks to the aluminum breeze view fence.
Arrangement of slats according to your tastes
The slats of the aluminum fence panels can be mixed and affixed in different ways for contemporary designs. The polyester lacquer coating applied to the aluminum in our factory allows the panel to retain its strength over time. Its appearance is resistant to corrosion. You can arrange the louvers according to your tastes and constraints on the same post system.
Quick and easy installation
Cemented on an existing concrete wall or on the ground with aluminum posts, you choose the most suitable installation method to enclose your property with the privacy slats. Quick and easy installation. Seen from the street, the slats give the appearance of a solid fence like a palisade. Its privacy slats nonetheless respect urban planning rules prohibiting completely blackout panels.
A real windscreen seen as a windbreak
The louver function of this model of slats allows a carpentry project adapting to angled and sloping ground. Ideal for windy areas✱, no visibility from the outside. Another advantage, unlike PVC or wooden slat fences, maintenance is above all easy. Surrounding and protecting your habitat with our fences offers protection and peace of mind against prying eyes.
✱We recommend then to seal the poles in concrete
A real compromise between open slats and blackout, the CL07 slat lets air pass without being seen.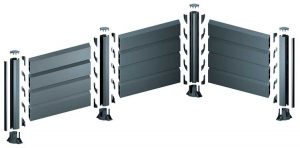 Easy fence installation systems
Post installation (CL06) with a maximum length of 1.80m from post to post offers an elegant and contemporary design to your aluminum privacy fence. Quick 3-step installation.
Installation on a concrete pillar is possible with the CL09 aluminum profile. It is thus possible to renovate a fence with existing concrete pillars using aluminum slats.

The surface mounting, or offset installation allows you to install the fence to an existing wall using the same CL06 post with the ST54 wall bracket.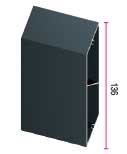 CL07 slats, maximum length 1.80m from post to post. 135 louvers as standard with possible custom options.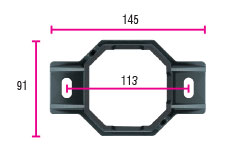 Part ST36 is the footing support for the post of our aluminum breeze-view fence or RANCH model.
Available RAL
RAL 7016 ANTHRACITE Laquage téflonné, RAL 9010 blanc, RAL 1015, RAL...
Installation
On a concrete pillar or offset installation
Download the fence brochure
Parution dans la revue Paysagistes N°103| Novembre – Décembre 2019 – ISSN : 2263-7990 : Dossier clôture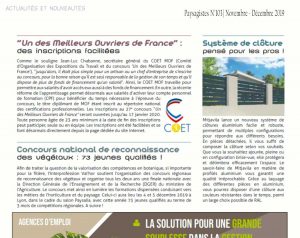 Lacquer guaranteed for 5 years

Breeze view fence in brief !
Protection from prying eyes
Concrete pillar or offset installation
Withstands gusts of wind
In accordance with town planning
Many RAL colors available
Download the brochure
"I wanted a louvered fence with minimal louver gaps and easy to install. The wind circulates and I am calm in the face of impossible ripping out due to wind.

Arnaud L.
Discover some beautiful aluminum breeze view fencing projects carried out by our customers
The privacy screening fence is ideal for windy regions. It lets air flow through and allows you see outside without being seen. Made of aluminum, the profiles and posts of the fence are very easy to maintain.
For this house, the owners have opted for the anthracite gray color and thus have a sober and modern appearance. Easy to install, the fence was positioned all along the perimeter wall of the house. Installation at an angle is not a problem.
In Ibiza, the garden level of this residence is surrounded by a white Breeze-View type fence. From the inside, we have a view to the outside without being seen.
The white RAL 9010 lacquering perfectly matches the rules of the subdivision where this residence is located. The owners of this garden can then rest and enjoy the tranquility without being bothered by people passing in the street.
Realization by Toldos y Cortinas Ibiza
Looking for another aluminum fencing system? This may interest …
Are you looking for a perforated fence with sturdy aluminum slats for your yard? There are other solutions than the aluminum privacy fence. Want to gain some privacy? On your walls, pergolas, think of vertical guide box awnings, claustras that adapt to all configurations since they are tailor-made.
You can opt for the RANCH fence from Mitjavila, same installation system. Only the louvers and the spacer are different.
This post is also available in: Français (French) Español (Spanish) Italiano (Italian) Português (Portuguese (Portugal))