Exterior veranda -sunroom awning

Finally enjoy your veranda in the middle of summer!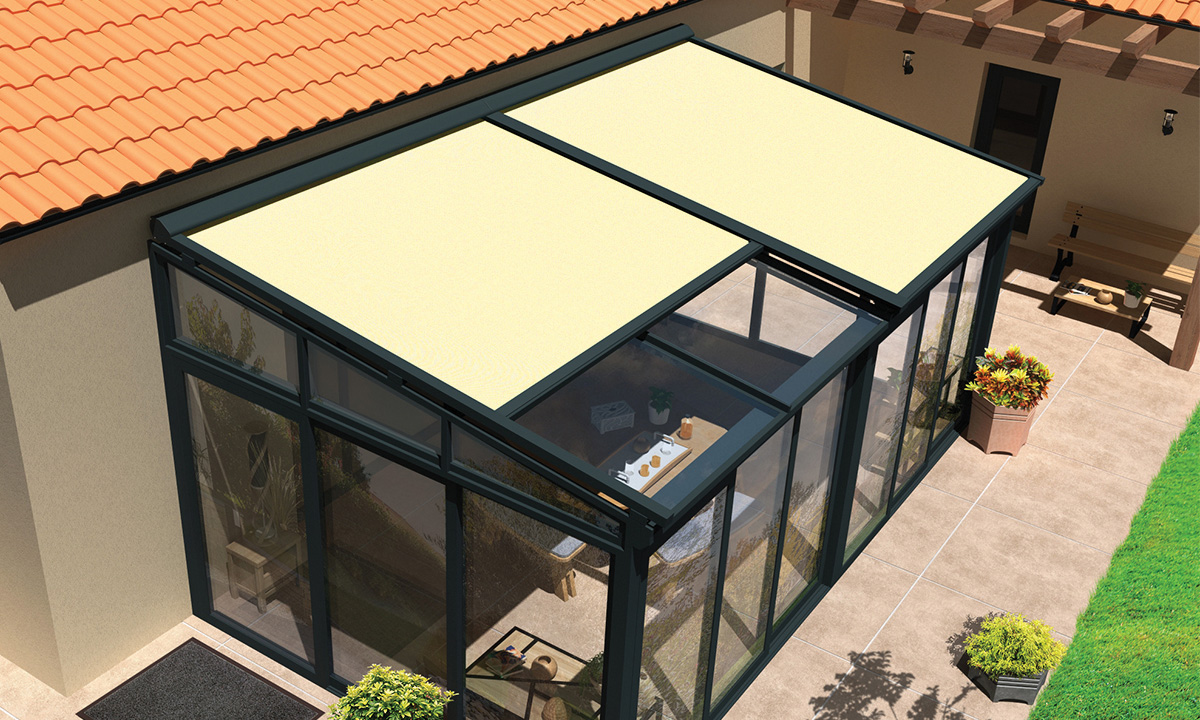 An additional room. A veranda or polycarbonate pergola can quickly become a furnace in the middle of summer when the heat is at its maximum. To avoid the greenhouse effect, the veranda or sunroom awning is an awning that is installed on the roof. It can also be used in winter without forgetting to roll it up in bad weather. The veranda awning can equip a canopy to protect your skylight from the sun's rays and glare in midsummer.
A large choice of brackets for the veranda awning allows multiple configurations (side hook, central hook, plates). In addition, when several modules are required, access to each motor is independent and easy from the outside.
A roof awning for a comfortable veranda
In a veranda, the temperature is always about 4 or 5 ° C higher than outside, which is pleasant in mid-season or in winter. However, these extra degrees are uncomfortable in the summer. Not to mention the damage caused by UV rays from the sun on furniture, rugs or upholstery. In addition, the episodes of heat waves multiply from year to year and the use of outdoor sun protection limits the use of air conditioning and brings a real gain in freshness in your interior.
Perfect integration and high technicality
This motorized cassette awning with guide rails is adapted for large surfaces. Suitable for conservatory roofs, it can also be fitted to pergolas and thus regulate the light. This exterior awning is fixed to the structure (aluminum, wood, steel) with aluminum guides lacquered in the chosen colors. Protected from bad weather and dirt inside a cassette, the fabric slides along the roof. This anti-furnace roof awning benefits from the same tension system as the fabric pergola with pulleys that increase the effort for a constant tension of the fabric. The lightness of the system (aluminum load bar) facilitates installation and the 100% Dyneema rope both offer high-tech and durability.
Thermal efficiency of the fabric
Be sure to choose a quality fabric to create a real heat shield. Positioned above the glass, the fabric absorbs and rejects up to 95% of the heat contained in solar radiation. Unlike clothing, a dark canvas will be preferred to protect against UVS and heat. You will need to balance light and warmth when choosing your fabric. If the roof of the veranda is very exposed to the wind, vigilance is required because the fabric can be torn off. It is therefore recommended to provide a motor including a wind automation.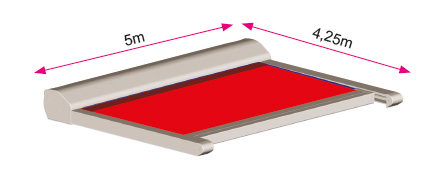 Dimensions max per module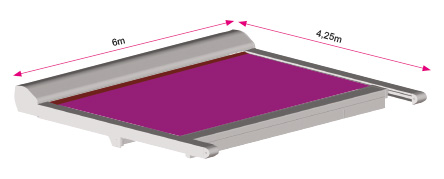 XL Version (width 6 meters)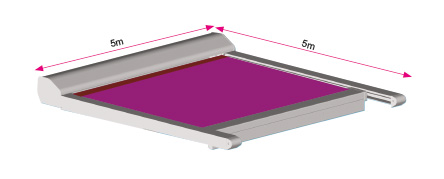 Une version contemporain est disponible en pièces détachées pour les professionnels. Voir catalogue Pièces détachées stores.
Ral disponibles
Nombreux RAL disponibles sur devis
Visserie anticorrosion
Dacromet
Motorisation
1 moteur par module
Longueur maximum
16mètres en 4 travées
Platines de fixation
Fonderie aluminium
Encombrement coffre
140mm de hauteur et 170 de largeur



Store veranda in brief!
Greenhouse effect protection
Cassette protecting the canvas
Aluminum extruded profile
Up to 6m (XL version)
Integrated fabric tension mechanism
Download the brochure
"I can finally keep my plants under my veranda in summer and enjoy my garden furniture!

Geneviève A.
Discover some beautiful projects of veranda awnings made by our customers
Looking for other solutions with the authenticity of fabric? This may interest you …
You are looking for sun protection that offers the authenticity of the textile. There are other solutions than the veranda roof awning. You can opt for a pergola awning, a classic awning or the canvas pergola. Our solutions adapt to all terraces.
This post is also available in: Français (French) Español (Spanish) Italiano (Italian)